Bloomberg meetup tackles Big Data for context, advertising, service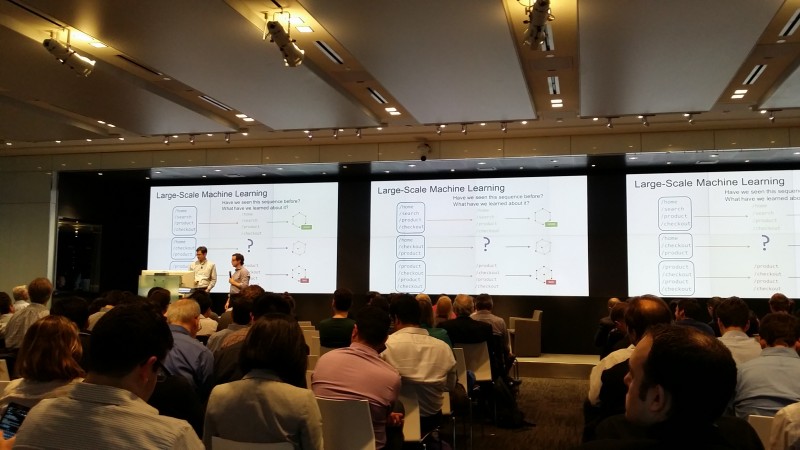 By Dennis Clemente
How important was the Data Driven NYC #26 meetup last April 15? For people who confused "join" the meetup online as the way to RSVP for the event, it meant waiting half an hour to get in at the security-tight Bloomberg offices.
The wait was worth it. The top startups at the meetup showed how the world of big data analytics is gaining so much attention and million-dollar funding these days.
The presenters were Jason Tan, founder and CEO of Sift Science (fights fraud on websites with machine learning); Stephen Purpura, founder and CEO of Context Relevant (big data analytics); Ashish Thusoo, founder and CEO at Qubole (next-generation big data platform) and Josh Schwartz, lead data scientist at Chartbeat.
The spotlight presentation by Charlie Jacobson, co-founder and CEO of Firestop (end-to-end, cloud-based system for fire data, from inspection to fire ground) was the emotional favorite.
Tan demonstrated Sift Science and how its machine-learning algorithms can sift or sniff fraud online, like in a credit card purchase, for example. A human being flags this down later for review.
"With machine learning you can teach computers to build the rules themselves using statistics as data," Tan says.
Sift is aiming at small-to-mid e-commerce businesses without the resources or budget to have sophisticated technology.
Another presenter catering to resource-challenged businesses is Context Relevant.
From Seattle, Purpura presented Context Relevant, a company that offers predictive data analysis using real-time data from HDFS, SQL, web logs, CRM systems, market data and social media to output analyses and projections.
The application also uses "behavioral libraries" which analyze interactions specifically for finance, web personalization and online travel.
Chartbeat's Josh Schwarz's presentation was more about getting people to talk about his question, paraphrasing here, "What if an internet ad was priced based on its display duration?"
A new study by Chartbeat on the success of internet ads found that about half of "viewable impressions" are only seen for 1 to 5 seconds. Online, it turns out, people look at an ad for up to five seconds.
Ad agencies, especially its creative and media planning departments, should set goals for different advertisers, because it turns out that an ad with a more complex storyline could still run for 6 to 15 seconds and still create an impact.
One might think making it on Google and Facebook is a life-long career, but some people prefer putting their own dents in the universe.
Tan came from Google and next presenter, Ashish Thusoo ran Facebook's data infrastructure team before he co-founded Qubole.
Qubole offers big data-as-a-service with a "true auto-scaling Hadoop cluster." It's auto-scale feature automatically spins up users' clusters when a job is started and automatically scales or contracts based on workload, cutting back on costs and management requirements.
An intuitive UI expands the reach of this service beyond data analysts to entire lines of businesses. Qubole handles the initial setup and then maintains the clusters. Its customers include Pinterest, MediaMath, Nextdoor and Saavn.
The audience responded warmly to a new iPad app developed for firefighters who need critical information quickly and intuitively as they respond to emergencies.
Charlie Jacobson, founder, showed how the app provides data like building layouts, fire hydrant locations and hazardous materials warnings to give firefighters the critical information they need during an emergency.
The meetup was hosted and organized by Matt Turck, VC at FirstMark Capital.

Copyright secured by Digiprove © 2014 Dennis Clemente