Stream Web and Infomous stand out in startup demos at Columbia Business School
By Dennis Clemente
New York's tech startup scene has nightly hour-long meetups that serves as both entertainment and fund-raising ventures, but Columbia Business School's Startup Demo Night #23 (media and entertainment) last April 17 took it to another level.
For four hours starting at 6 p.m., 11 startups in the entertainment and media space presented to six investors who then provided feedback. With limited time, presenters could only talk about some features of their startup ideas.
Like Stream Web which was, along with Infomous, the two standouts of the night, not only in terms of what they have to show for but how the other presenters could learn a thing or two about how to present properly, snark-free. I guess when you are confident about your startup, confidence comes naturally.
Stream Web is a web browser app for iOS packed with great features like dual browsing but founder Paul Canetti only had time to show the Stream. Instead of a URL link to share, you copy and paste an image as a URL. The clip itself is a link.
It's simple to use. You cut out anything on the screen with two fingers and paste to share on your social networks, email, SMS or save for later.
"URLS are ugly and outdated. We've created a new modern standard that utilizes the essentials of the mobile experience: Visual, social, gesture-based," Canetti said.
Infomous turns text into an interactive visualization that gives users an instant snapshot of what is trending. Founder and CEO Paolo Gaudiano presented again after being a favorite at innovator evening weeks ago. http://reimaginetech.com/infomous-gets-top-nod-vcs-innovator-evening-event/
Lori Cheek of Cheekd, who appeared on ABC 7's Shark Tank recently but did not get funding from any of the show's sharks, is not one to be easily discouraged. In about 10 weeks, she said she will have an app version.
What's cheekd.com? Well, if approaching the opposite sex intimidates you, Cheeks offers a "covert: solution: old-school calling cards with clever pick-up lines.
Like what Cheek said on Shark Tank, she is determined to make her business work. It clearly shows in her presentation where others who face setbacks can't put up a brave front, unless they know deep down how, three years into their startups, the challenges have become costly problems and they are not going to go away anytime soon.
The other startup presenters were Metodi Filipov, co-founder of Flipps Media; Nathaniel Casey, co-founder and CEO of Blaztrak; Waywire's Javier Soto and David Larkin, founder and CEO of GoWatchIt.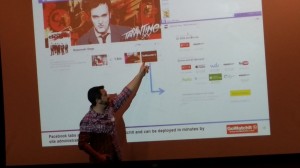 The second leg of the presentations consisted of John Weinstein, founder and CEO of YouAreTV, Jeb Balise, CEO of Puzzle Social and Michael Jaschke, co-founder and CEO at 48Bricks Inc. Katerina Vorotova presented Try the World.
The investors who came in to provide feedback and advice were Neil Chheda, angel investor & managing partner at Romuls Capital; Jeff Pulver, angel investor & co-founder & chairman at Zula; Giordano Bruno Contestabile, angel investor & VP of product management and revenue at Tilting Point, Claude Zdanow, angel investor and founder and CEO of Stadiumred and lawyer Jonathan Maisel.

Copyright secured by Digiprove © 2014 Dennis Clemente