Breakfast with startup champion Mike Edelhart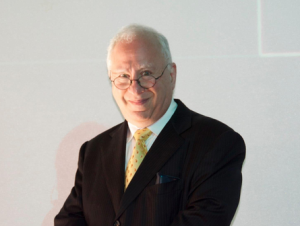 By Dennis Clemente
A tech meetup at 9 a.m. is a rare occurrence in New York but so is an opportunity to chat with an angel like Mike Edelhart, a current investor in 82 companies, a past investor in 11,000 startups but who is now focused on his "two-sided" company. Edelhart is the lead partner at Social Starts and CEO of Tomorrow Project, LLC, producers of the Pivot Conference in New York and other services for major brands.
At Cowork.rs last August 13, Edelhart was early, talking to his audience even before the talk was set to start. He was serious all the way as he shared his thoughts on many things tech, asking people every now and then to ask questions.
Yes, he has gray hair, but he clearly knows the youth market. Surveying the room, he asked, "What do millennials do these days?"
With some tentative responses here and there, he answered the question himself, telling us the sector most investors avoid but one he embraces. "They're looking for news," said the former executive editor of PC Mag.
He thinks one shouldn't be hang up on demographics, though. "There is no such thing as a youth market. He added that it's not true the youth don't care about products they care about what goes into it. And what you also don't hear these days from other investors: "Cool days for young people are off-internet days."
Perhaps on account of his journalistic roots, Edelhart had this to say, "Startups with some emanating truth is worth looking into." From his experience, he can tell, "'This person' is actually telling the truth. He actually believes in it." But he also stressed how pitching cannot be a charm offensive. "You cannot BS your way. You have to put together a cohesive argument of your idea with your team."
Edelhart didn't elaborate as much which happens in a fireside chat as opposed to a structured interview. And to accommodate all the questions, he switched from one sector to another fast, talking as both an investor and observer in the tech community.
Clearly a very busy man, he announced that he made four new investments in the past week. Still, he was generous with his time. He answered as many questions as he could and talked with each attendee afterwards.
On investing in a startup: "I look at great teams"
On future of tech: "Our bodies will produce content," referring to sports analytics
On healthcare: "We're not getting into it. We're getting into the analytics of it"
On foreign startups: "It doesn't matter what country you're coming from" (He has invested in a startup based in Slovenia.)
On markets, opportunities to avoid: "The college market is small." "I would not go near the ad business"
On big data: Look into the shift in big economics, game economics, predictability
On being an investor: I spent my entire life doing what I wanted to do. I would stop sleeping if I can. Investing? It's a lot of work."
For Edelhart, tech revolutions are not defined by their beginnings but by their middles. He was a founder and managing director of First30 Services, a new company-creation consultancy. He also served as interim CEO at LiveDeal, Inc. a NASDAQ company that delivers classified and small business marketing services over the Internet. He has been an advisor to Deep Dyve, Inc., which has developed revolutionary technology for high end search, after serving as its initial CEO. He was chairman of the board of Olive Software, a Sequoia backed XML software developer, where he was CEO. He was also CEO at digital magazine distributor Zinio. Earlier in his career, he was a senior executive at Softbank and Ziff-Davis Publishing and the author of 22 books.
The meetup was organized by StartupOneStop and the New York Society Startup Society.

Copyright secured by Digiprove © 2014 Dennis Clemente