De Blasio introduces NY's first CTO, Minerva Tantoco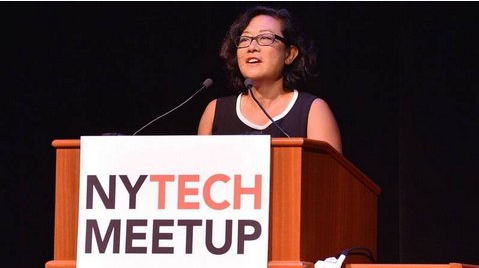 By Dennis Clemente
"New York's tech story is an underrated story," said New York mayor Bill De Blasio who graced the NY Tech Meetup last September 9 to introduce "one more thing" on the day of Apple's big event: New York's first-ever chief technology officer in Minerva Tantoco.
De Blasio is right. Ask New Yorkers if they know what's happening in NY's tech scene and it's highly unlikely they will know about it. If you drop $128 billion in the conversation, you'll get an incredulous look. That is actually the money poured into New York's tech economy last year. While we're at it, also tell New Yorkers that the city is the fastest-growing tech scene in the world and you'll get bored looks directed at you.
The tech scene is not exactly a mainstream topic like news and entertainment. But at the NY Tech Meetup, it's up front and center and fills up 600 seats easily. And yes, it doesn't help that New Yorkers are not easy to please as well.
With De Blasio and Tantoco, Tuesday's meetup was also one of its longest events., exceeding two hours on top of its show-and-tell format: 9 presenters and one (sometimes two or three) hack of the month that divides people: Those who think the show's length is just about right and those who complain how by the seventh presenter, they have mentally checked out or left the building.
The startup presenters were Bubble, Dashlane, Heat Seek NYC, Hopscotch, Knotable, Makr, QuickMVP, Tengrade and The Campus Job. The hack of the month was bitshift.
It was a serendipitous day for Heat Seek NYC. With De Blasio at the event, the team of Heat Seekers asked the city to support its cause: provide a thermometer to residents with no heat in the winter. "It affects 200,000 people in the city and is the no. 1 complaint at 311. We look forward to delivering 100 sensors in buildings."
De Blasio welcomed the startup's idea, saying he will present it to the housing authority.
Two startups offered new ways of programming: Bubble is a new way of programming web and mobile apps without code, while Hopscotch offers a fun way of programming.
On the same day Apple announced Apple Pay, Dashlane took to the stage to assure the audience there are other brands and devices for it to compete against Apple Pay.
How do you boost your productivity? Knotable aims to lessen the noise in your email threads. Another startup, QuckMVP, can test a new business idea, reportedly in just five minutes. What about a way to boost students' productivity? The Campus Job is a marketplace for students to find jobs. Another presenter, TenGrade uses a tornado rating system in its reviews from "reliable" sources—friends.
Makr is relying on its user experience to get people to use its app, a tool for customizing products (eg. corporate gifts, T-shirts), design and have them printed or manufactured.
Bitshift, the hack of the month, is a semantic source code search engine.

Copyright secured by Digiprove © 2014 Dennis Clemente