The secrets to designing a good game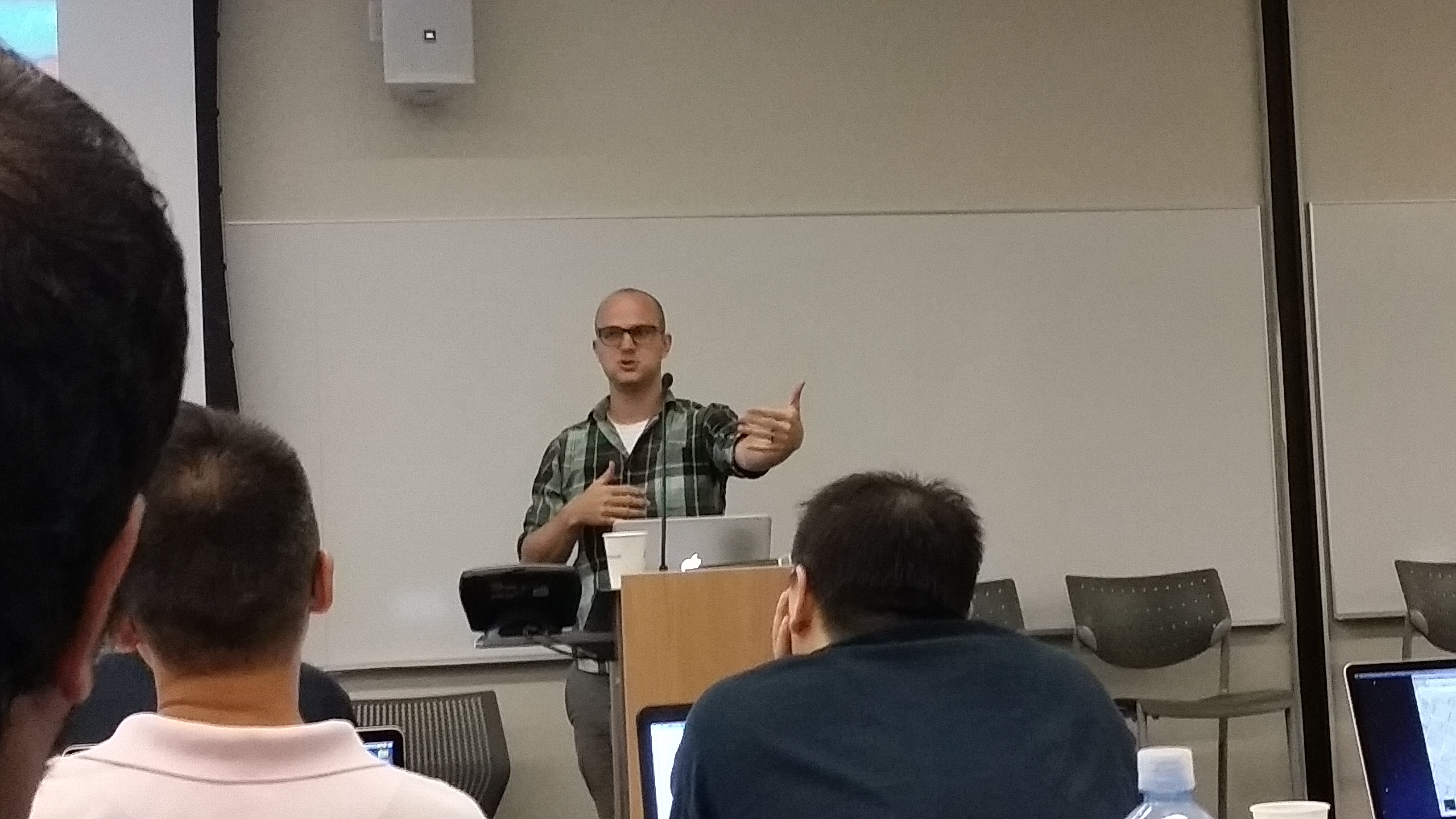 By Dennis Clemente
Last September 2 at Microsoft, NY Games Forum provided an overview of its upcoming workshop with instructor Mark Heggen, Entertainment Applications director at AMC, talking about "not actual" secrets to designing a good game, pointing out each of his points for the audience, which consisted of beginners and developers.
People are terrible at randomness. Using a coin flip as an example, he asked how much do you let somebody win (7 successive coin flips is too much). It's up to you to set the rules.
Games are not just games. What's the best way to raise awareness about hurricane preparedness? In 2011, a bunch of kids took part in an invented ball game where kids fight a "battle storm?" aka the Navy who – for the fun of it– intimidated the kids like they were the storm. Organizers staged it like a big sports event, with videos, interviews, prizes. The kids were made to win, of course.
"A game is only good if it changes the experience," he said. He believes even a crossword puzzle using pen and paper make a statement.
Tropes and clichés are your friends. You have to have a good reason to buck a trend. If you know what zombies do, the last thing you want to do is make them fly.
Games that are too simple to work, often work. We're guilty of making things complicated, so when you think you're making it more complicated than it should be, Heggen suggests the following reminders:
1. Your game + time = A more complicated game
2. Your game is more complicated than you think
3. So aim for too simple (it won't be)
"Of all the things I've said this is the most valuable (to keep in mind)," he said.
Asked if there are rules in designing a simple game versus a serious game? "The principles are the same," he said. Another question dealt with the thin line between being influenced by a game and stealing an idea for a game?" The lines are blurred.
Heggen started his career nine years ago as a game designer for Area/Code, which was bought ago by Zynga where he also worked. He helped create hit games like Drop7 and Parking Wars, as well as a huge range of experimental real-world gaming experiences.
After leaving Zynga, Heggen helped build the New York studio of Hide&Seek, an independent studio with an emphasis on developing new types of play. He now leads gaming efforts for AMC, including web, mobile, social, and second screen games.
NY Games Forum's full day workshop for all experience levels will be on September 20. It will be platform agnostic, so it doesn't matter if you are using PC or mobile and if you are developing LARP, sports or board games.
"It's a great time to be making board games," he declared.
What makes a great game designer? He said it's about understanding the process. The workshop topics will cover concept development, rapid prototyping, playtesting, flexible design strategies as well as design resources, tuning and balancing, polishing, managing a live game and the secrets to a winning game. In playtesting, he is expected to tackle when to implement suggestions or ignore changes.
For more info, visit http://gmsfrm.com/

Copyright secured by Digiprove © 2014 Dennis Clemente