Sponsored Content videos offer more monetizing opportunities for publishers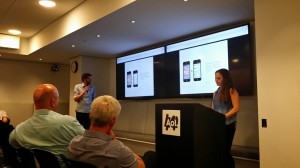 By Dennis Clemente
If you're a publisher, you know how Sponsored Content can help you monetize your site. For the uninitiated, Sponsored Content can be advertorials or story links that usually sits below your favorite news sites, although some are also known to pop up when you least expect it.
Last June 19 at the NY Video Meetup at AOL, Sharethrough and Taboola presented just how videos on Sponsored Content are gaining headway. They were two of four presenters, just the right number; it's what every meetup should strive for.
Dave Ford of Sharethrough showed how Vine is popular on its in-feed ad exchange, for example. Sharethrough natively integrates all types of brand content (video, images, sponsored content and yes, vines) into the news feeds and content wells of relevant tier one publisher's mobile and desktop sites.
In his demo, he showed how the integration of in-feed ad exchange to a publisher's content is supposed to "respect the user experience" because if an item is promotional, it simply says that on the feed.
Why is Vine popular? Is the 6-second video loop the secret to Vine's success? That was a question posed by host Steve Rosenbaum to the audience. Many in the industry say it's fast and easy to upload videos. It has also gained huge following on Twitter. What this tells us is how sponsored content continues to improve to the advantage of publishers.
Ford assured us that "feeds are the most effective way for brands to distribute content."
Taboola's Andrew Milk noted 30 percent more activity for its videos. The content discovery platform reportedly serves 130 billion recommendations to over 350 unique visitors every month on publishing sites like USA Today, The Huffington Post, Time and The Weather Channel.
Publishers, marketers, and agencies leverage Taboola to retain users on their sites, monetize their traffic, and distribute their content to drive high-quality audiences.
"Our videos have given us an advantage," he said, adding how publishers can screen ads that fit their identity. He also pointed out how related story links is working for them.
Another presenter relevant for publishers is Appfigures. Its suite of app-data tools are built to deliver insights to developers, publishers and enterprise. What does it do? It's basically a reporting platform for mobile developers that automatically downloads and visualizes sales data, App Store reviews, hourly ranks and more.
Co-founder and CEO Ariel Michaeli designed around bringing clarity to complex data. If you're into collaborative video production, Ryan Fitzgerald offers Celtx, which he described as Google Docs for video production teams. Supplemented by mobile and desktop apps, it provides a start-to-end ecosystem for video pre-production.
With Celtx, you can create scripts, storyboards, shot lists, scene breakdowns, budget schedules and more. "We provide an all-in-one solution," Fitzgerald said.
For people who can't wait for email and need to be able to move all the time, you can share documents with your entire team (maximum of 50) and work together on productions in real time.

Copyright secured by Digiprove © 2014 Dennis Clemente