How to succeed as a startup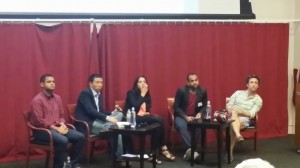 By Dennis Clemente
How would you like to know what it takes to succeed as a startup? That question is surely in the minds of everyone planning a startup or even those who are years, even nearly a decade, into their startup.
One of the Twitter founders once said that timing, perseverance and 10 years of trying will eventually make you look like an overnight success. Today, Twitter is still trying to find a way to monetize its business. It's really that hard.
But nobody in recent memory has said it with all honesty than the guest panel at Tech in Motion last June 18. The honesty part is about how they told their own stories of failure staring back at them when they first started 10 to 15 years ago.
The intrepid panel consisted of Andrew Yang, founder of Venture for America; Nihal Mehta, founder of Local Response & general partner at Eniac Ventures; Brett Martin, entrepreneur, building Switch, a co-founder of Sonar Media; Anna Khan, venture capitalist at Bessemer Venture Partners. Kunal Mehta, author of The Disruptors, moderated the talk.
It's a great panel and if nobody noticed a diverse one that ultimately led to what you often don't hear in a tech meetup– a multicultural perspective on success. Nihal is proud of his Indian American heritage but he reveals how it's also a culture where failure is not taken lightly.
If everybody is wondering why Indians or Indian Americans are driven and ambitious, it's also because the pressure to succeed is very high in this ethnic group. As Nihal was brought up to think, you either you become a doctor or engineer, as these professions reward you with stability.
Right after college, Nihal didn't do this, as jumped into the world of startups and failed miserably. He was 22 when he filed for bankruptcy. He has had five startups since then before he turned to venture capital.
What does it take to succeed? For him, it's a four-letter word that he wants every startup to own: grit.
Before the dot.com crash in 2001, Nihal said people invested in your idea in a napkin. In 1999, he claimed having the Elon Musk sign a check on the spot. Today, 93 percent of the time you can be declined.
The panel oscillated between success and failure in their talk, but they agreed with each other on what it takes to succeed. Right after Nihal said "grit," one after the other pitched in. Khan said "passion and visionary operators"; Martin said "resilience" and Yang said "persistent adaptability."
But rather than serving platitudes, the panel revealed more of themselves.
Elaborating, Yang said, "You need to have a thirst for solving a problem and this problem consumes (you).It's going to shape to a different person: closer to the person you want to become."
Failure is part of it all. Giving us more complex layers of his views, he added: "What you don't know is actually your friend or you wouldn't be doing what you need to do."
Like Nihal, Yang has been in the startup world for over a decade. He left a corporate law firm for a startup. Like Nihal, he also admitted to failing big time. He can be blasé about it now, but he experienced the pits of living without money. "I would even take my dates to Subway."
Martin had a longer and also honest response on this one. He thinks you need resilience more than persistence.
In his startup years ago, he remembers "racking up $60,000 credit card bills" and trying to get "$11,000 in 3 days". Somehow he got the money, lost it again, and got it when he gained traction.
What he learned from the experience can give all startups some hope. After his big failure, he decompressed at the beach. "Then the next thing I know, I had five job offers with startups."
What's the lesson here? "If you stay in the same job and the world has changed, what are you going to do?"
If you failed as a startup, that's a badge of honor. It means you know why you failed and startups will want you for the wisdom and experience you can bring to the table.
All of them have one advice to give for those preparing to launch their startups: Try to find a team to apprentice or join to learn what it takes to be a startup, as it also helps you gain the confidence you will need. Because if you don't have the confidence, then how can you expect investors to have confidence in you?
"Be an apprentice for a startup for 2 years," Yang said.
As a woman, Khan said it's important for women not just to have confidence but to know how to "talk up" an investor. From Pakistan, Khan said that there are few women in tech because it's populated by men.
Nihal agreed, saying it's because men know only other men, like how referrals go. He said crucial to have women in the tech world, whether they're in a startup or they're a VC. He cited how one instance when a young girl produced an app that solves the queue problem in the women's restroom. "A guy will not be able to think of that."
The coup de grace of the night was when Martin answered a question from the audience regarding the question of bootstrapping or getting funding. He said there's something patently wrong about approaching a VC: "93 percent of you will be rejected. A VC can tell you how another startup is going to take your market share."
But why are people talking about getting funding from VCs all the time. Martin added, "They (VCs) have so much mindshare (read: exposure out there). They're everywhere, because their main job is to be out there."
The rest of the panel chimed in, saying bootstrapping your way is ok, but if you need to scale your startup, at least you know where to go. But if you need an angel investor instead, Yang said you'll need to rely on your network.
The meetup was sponsored by Microsoft.

Copyright secured by Digiprove © 2014 Dennis Clemente